Apollo Spraying Equipment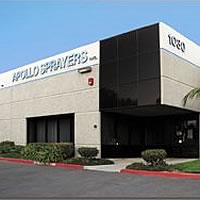 ABOUT APOLLO
Apollo Sprayers was founded in Birmingham, England in 1966. Originally Apollo Sprayers manufactured small High Volume Low Pressure (HVLP) spray machines aimed at the D-I-Y (do-it-yourself) markets.
Apollo HVLP products are used for industrial and commercial finishing as well as in the quality-oriented home workshop. Their commitment to ongoing research and development ensures that all products produced by Apollo Sprayers provide the newest, most efficient and easiest-to-use HVLP technology available.
80% - 90% Less Overspray than Conventional Spray Guns
Simple and Easy To Use
Flawless Performance
Incredible Results
Apollo Sprayers Inc. has always been at the forefront of industrial HVLP technology.


POWERSPRAY Sell, Hire, Repair and stock a wide range of Apollo equipment and spares.